MONDELEZ INTERNATIONAL : SNACKS TO THE POWER
1903: Canadian immigrant James L.Kraft starts his door-to-door cheese sale in Chicago, closing the first year with a loss of 3,000$ and a horse.
1924: Kraft Cheese Company gets listed on Chicago Stock Exchange.
2015: Kraft food merges with Heinz for one of the greatest fusion in the food industry history, originating the brand new corporation KraftHeinz Company. The "Pink Sauce" merge, between the colossus respectively of mayonnaise and ketchup was backed and masterminded by Brazilian investment firm 3G, in partnership with US financial giant Berkshire Hathaway Inc., managed by the legendary tycoon Warren Buffett.
The new food giant registered in 2016 a revenue of 26,487,000,000 $.
The story of this article began however 3 years earlier, in 2012, when Kraft Food Inc. was split off in two separate entities: Kraft Food Group, focused on grocery business for North America and successfully merged with Heinz, and Mondelez International, focused on snacks business worldwide.
What Mondelez stands for? The quirky and creative name was coined by two Kraft Food employees combining the words Mundus (World) and Delez (Delicious); International was added to underline the strong vocation of the new company, and then the new name was overwhelmingly approved by the US food behemoth's shareholders.
A WORLD OF DELIGHT

Chocolate, biscuits, crackers, chips, chewing gum, sweets and so on; Mondelez family includes so many products which have been our companions since childhood and still are while we watch a movie with the partner, a football game with a bunch of buddies, equally becoming the best friends of our children's afternoon break: the fingerslickers Fonzies, the extra crunchy Chipsters, the chocolate bars with purple cow Milka, the triangular chocolate Toblerone, all age biscuits Saiwa, Petit-Beurre and LU, the trumpeting elephant chocolate Cote d'Or, the legendary Oreo, the crackers Ritz and Tuc, the cough-drop sweets Halls, and many others, in 165 countries.
Mondelez acquisition strategy, on par with others big corporations, is to keep unaltered the brand image and overall experience of the acquired company, preserving its identity and tradition, "conditio sine qua non" to maintain perception and loyalty of the customer base, and to prevent a drop in sales.
The US behemoth is extremely proud of its so-called "The power of big and small," that is to say its ability to blend the power, the management skills and the international exposure of a seasoned big corporation with the agility and environment of a young startup, exactly as it blends the different ingredients to craft its delicious snacks.
NO SUSTAINABILITY? NO PARTY!
Surely you will agree on the fact that in this day and age, the big corporations are constantly under the magnifying glass of public opinion: every of their project, action, initiative, and whatnot is carefully examined and promptly discussed with a whole series of comments, speculations, and personal interpretations.
Of course, Mondelez International is no exception, but its past and present path are riddled with a strong commitment to sustainability.
One great and significant step was done in 2011 when, after a long-standing partnership of several years related to the paper used in the packaging of its products, Kraft Foods canceled the contract with "forest killer" paper supplier "Asia Pulp & Paper" responsible for the destruction of Indonesian natural arboreal heritage. Concerning the packaging suppliers, Mondelez International relies actually on partners definitely more oriented to sustainability such as Multi Packaging Solutions and, especially, Graphic Packaging International.
But Mondelez commitment, of course, goes beyond a responsible packaging suppliers sourcing, and in fact, the food giant launched some interesting projects related to some of its key raw materials.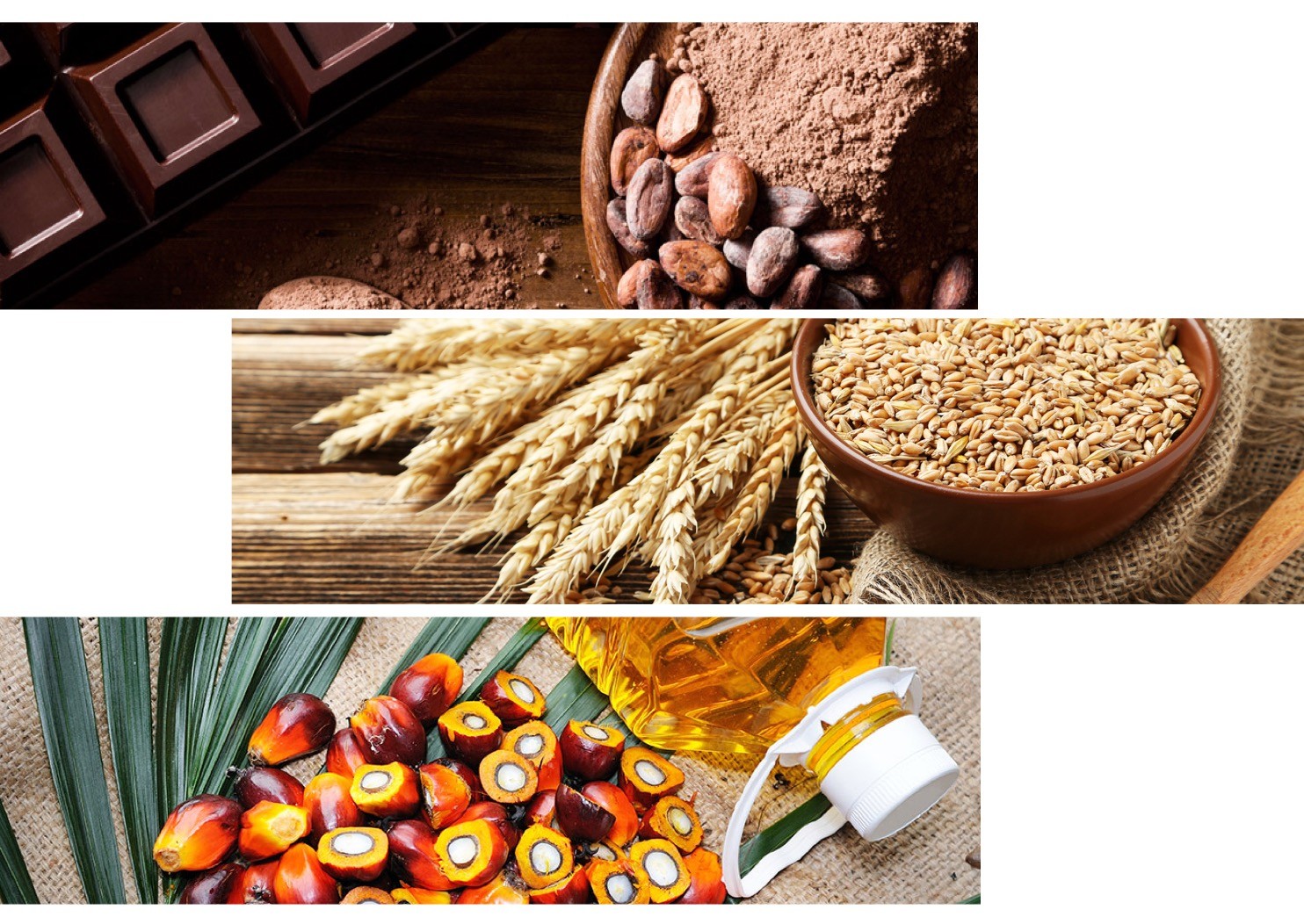 COCOA
As already widely discussed in this dedicated article, cocoa is a tremendous global issue, due to the huge farmers condition and the extra long supply chain.
As mentioned in the aforementioned article, Mondelez, as a Chocosuisse member, is committed to buying 80% of their cocoa from sustainable sources within 2025. Alongside, Mondelez is investing 400,000,000$ in its own cocoa project called "COCOA-LIFE." The aim of the project, active in Ghana, Côte d'Ivoire, Indonesia, India, the Dominican Republic, and Brazil, partnering with all the players in the supply chain as with NGOs, is to build and inspire the next generation of cocoa farmers through training, financial education, sensitization on gender equality for women, and child labour.
WHEAT
Can the largest biscuit producer in the world be indifferent to the issues related to wheat? Absolutely not, so Mondelez International launched the "CHARTER HARMONY" program, spanning Governments, NGOs and 1460 farmers in Italy, France, Spain, Belgium, Poland, and Czech Republic.
The project aims to improve products' quality, preserving the farming area and the environment relying only on producers with a strong commitment to sustainability and preservation of biodiversity, willingness and ability to follow the 44 sustainable agriculture practices of the projects which include water saving, pesticides reduction, regular soil rotation, and many others. Beyond farming, the project carefully watches and supervises all supply chain players and processes, from wheat variety selection to the final products delivery, from farmers to consumers, or to use a popular term, from farm to fork.
PALM OIL
The environmental scourge, the big enemy of our times.
Despite in 2014 it purchased just a little less than 0.6% of worldwide production, moreover sourced completely as per RSPO (Roundtable Sustainable Palm Oil) guidelines, the same year, Mondelez felt the need to develop its own framework for this sensible product, so it developed and launched the "PALM OIL ACTION PLAN", a complex and challenging project with the aim of making, step by step, the procurement of palm oil completely sustainable.
2017 was a great success considering that all the suppliers (tier 1) reached the 17 projects' milestones in the fields of Governance, Environment, Labor, and Smallholders. And the goal for 2018 is to increase the engagement and commitment of suppliers of suppliers (tier 2) in the project. Please join me in wishing Mondelez International good luck for this amazing initiative.
A SAFE PAST AND A HEALTHIER FUTURE
As every self-respectful multinational, Mondelez is aware that a strong brand identity can't disregard a great company culture and a happy and productive workforce so, asides the great devotion on sustainability, the snacks giant strives and watches every day to assure a safe and pleasant work environment for all its 90,000 stakeholders all around the world, granting them furthermore some interesting benefits to develop and maintain a healthy lifestyle, such as fitness facilities, health check, "quitting smoking" programs and many others.
Asides the health of its workers, Mondelez is obviously also concerned about the health of its consumers, so the viable plan for 2020 is focusing exactly on that, through 3 strategic guidelines:
Reshaping the snacks nutritional profile, increasing whole-grain cereals, and reducing sodium and saturated fats
Focusing 70% of investments on expanding the Well-Being Snacks Brands
Build among stakeholders and consumers awareness on "conscious snacking."
Next time you'll have a snack, try to think of what is behind it.
If you liked this article and think that Mondelez International can contribute to shape a better world, feel free to share it with your network.